Tweet

Welcome to Matt and Greg's Blog from 2012!
"Where we will share our thoughts and experiences about everything College parkour; even answer your questions!"
28 April. 2012

University of Massachusetts- Amherst "Parkour Day" Showcase- Amherst, MA


"Parkour Day" Recap-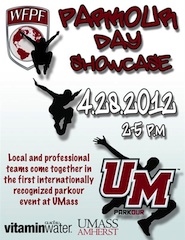 On April 28th College WFPF had our first sanctioned event held by the Sanctioned College Team University of Massachusetts Parkour and Freerunning. UMPK after more than a year of planning put on a very successful "Parkour Day" showcase and performance style event. The day included time for jamming and collaboration before the showcase of local and regional practitioners in a performance style exhibition. Members of New England Parkour, Rhode Island Parkour, and Connecticut Parkourjoined together in 2-5 minutes performances showcasing their own unique styles, skill levels, and movement. College WFPF Affiliate group BCPK and Phil Doyle, Ben Jenkin, and Max Henry (all WFPF athletes) came to support College WFPF at the event. The day was a great example of how college groups can share the art of movement with their local, regional and campus communities in a fun day dedicated to parkour collaboration and learning.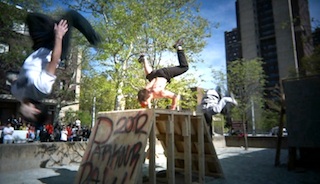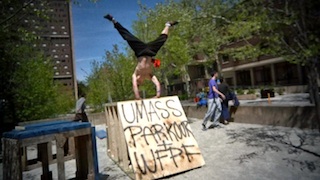 The course was built by UMPK members over the summer, but planning and preparation started more than a year before the event. UMass required waivers, insurance, and emergency medical plans for the event to transpire, which is where College WFPF was able to help in the culmination of a successful "Parkour Day." With events like this in the future, college groups will be able to promote themselves on their campus and in the local communities as a positive, caring and beneficial club and activity. The support of the New England parkour and freerunning communities is what made this event successful. The representation at the event varied from elementary to secondary age practitioners up to college and beyond. The community seamlessly trained and collaborated with each other in a positive and inclusive manner rarely seen in many other sports or activities. Younger practitioners and older practitioners learned from each other and enjoyed "Parkour Day" together.

Former UMPK president Jackie Hai filmed and covered the event in its entirety and has contributed to the College WFPF photo album on our Facebook page. She put together one highlight video, which can be seen below, and intends to put out a number of interviews taken throughout the day.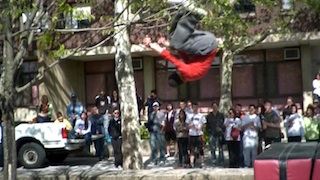 Current UMPK President Travis Swain, Vice President Jayme Giancola, Treasurer Scott Maxson, and Marc Freccero all helped organize "Parkour Day" whether it was calling safety meetings, behind the scenes work or disc-jockeying the event! WFPF, Know Obstacles, and VitmanWater provided prizes for "Most Creative," and "Best Move" which included VitmaminWater shirts, KO hats and bags. Custom Gold KO shoes and a WFPF Teaching Certification Scholarship were raffled off to help fund the cost of the event for the club. Some local deserving winners received the raffle prizes, which added to the list of amazing things that happened throughout the day. Parkour events do more than provide a time and place to train together; they tend to be powerful experiences that make us all better people after coming together to share the love of movement.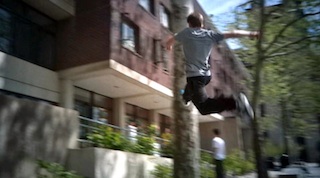 It was an amazing day at UMass! Thanks to all the UMPK club members for helping out with the event and inviting us to enjoy your wonderful campus. Also thanks to all the local and regional attendees who made the day extra special!



Look out for WFPF's Parkour PlayhouseCollege WFPF episode with coverage of Phil, Ben and Max's visit to UMass- coming out soon!






15 April. 2012

Red Bull Bus Jam "Freerunathon Funday"- Boston, MA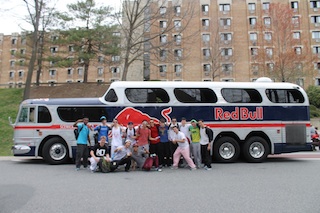 College WFPF Affiliate Teams BCPK (parkour group comprised of Boston College students)and BUPK (parkour group comprised of Boston University students) had the unique opportunity to try out a parkour and freerunning jam format; the first of its kind. Red Bull Boston approached BCPK a few weeks before and offered them an amazing deal. The Red Bull "Scenicruiser" Bus was in Boston for the Boston Marathon and Red Bull sought a local group to utilize the bus for 5 hours the day before the marathon. Zach DiCostanzo of BCPK accepted the offer excitedly and sought out campus media, BUPK, and some local practitioners to join them on the 5-hour tour of Boston's best parkour and freerunning training locations.
Go Pros, iPhones, and DSLR cameras were of the plenty on the bus and about 60% of the day was caught on camera one way or another. Red Bull Boston showed up on BC's campus at around noon and welcomed the group to the bus by saying, "The only two rules we have are to be back to BC by 5 and to have fun!" I'll let the videos do most of the talking but the planned route was to first go to the campus of Massachusetts Institute of Technology (M.I.T.) for the first hour and a half. Next stop was to return to the day 1 site of Hubbable Jam 2012 at the Charlestown Navy Yard location known as the "Baby Pool" for the next hour and a half and then to head over to the Harvard-Kent School yard and playground before heading back to BC by 5. BCPK came out with force training hard at both MIT and the Baby Pool locations. BUPK was represented by a few members who met the bus at MIT and took the longest ride in the bus from MIT through downtown Boston and over to Charlestown.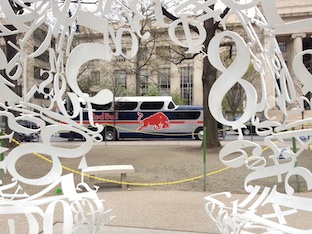 Aside from the training at each location, every trip from destination to destination BCPK and BUPK enjoyed the bus's amazing interior which consisted of three flat screen TV's, a fully stocked Red Bull cooler and bar counter, two couches, a full diner-style booth, two custom swivel Red Bull chairs, 4 stools at a counter facing the windows, a lower lounge and about 12 6" speakers with two 12 inch subwoofers all hooked up to a self-DJ style iPod connection. This bus was 60's retro outside and 2000's custom inside. Most of the windows opened and allowed the guys to wave to people, occasionally giving out Red Bulls to people waiting on street corners or to lucky individuals seeking a view of the inside of the bus. BCPK and BUPK experienced the life of Red Bull athletes and rock stars. Followed by the custom Red Bull Mini Cooper and Red Bull "Wiiings Girls," some Bostonians even thought they were, based on the looks we received as we got on and off the bus at each location.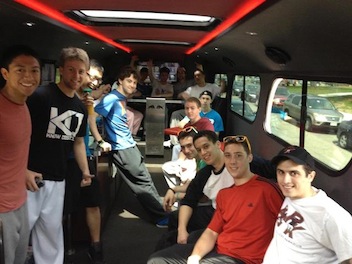 Nicknamed "Freerunathon Funday," after the nickname for the Massachusetts state holiday of Patriots Day; the "Marathon Monday" designation was given to the day the Boston Marathon is annually run on each year. Because of the day's amazing success, Red Bull Boston has suggested this event happen annually in conjunction with Marathon Monday.
College WFPF will seek out future plans to collaborate with Red Bull Boston and our schools in the future. Overall it was an amazing day, with a glimpse of the life action sports stars and rock stars enjoy all with the flavor of what the parkour and freerunning community brings to events like this. Thanks to BCPK, BUPK and Red Bull Boston for inviting College WFPF and we look forward to more exciting events and jams in the future with these two College WFPF Affiliate Teams in Boston! Keep it up guys!

Check out the small trailer edit by College WFPF of the day. This is only a fraction of the amazing things that made up "Freerunathon Funday" in Boston! Subscribe to our YouTubechannel for the full edit by BCPK coming soon!
www.youtube.com/user/collegewfpf

20 March. 2012

Hubbable Jam 2012- Boston, MA

To those of you that came to Boston this past weekend, thanks for coming out! The 2ndAnnual Hubbable Jam, hosted by WFPF Affiliate Team HUB Freerunning that went down in Boston last weekend was debatably the largest gathering of Parkour and Freerunning practitioners in America and College WFPF was there! We were glad to meet practitioners from MSU (Michigan State University) and DUPK (Duke University Parkour)! David and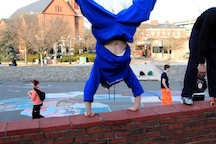 Victor, co-founders of WFPF came to town too! All to help promote the new college division of WFPF: College WFPF! WFPF's Parkour Playhouse production crew also came to film for the next episode (look out for an exclusive College WFPF interview with Matt and Greg!)
Personally it was the best few days of training I have ever had. I could barely walk the next day due to soreness! The Baby Pool location in Charlestown, Mass as well as the newly discovered Harvard-Kent School locations were perfectly suited for 12+ hours of training with over 300 practitioners! ( to check out these locations click the link or go on TagWhat.com) BCPK was present and contributed to the amazing collaboration of technique and style that made for amazing training experiences all day long. Max Henry from WFPF was beast-moding as always, as were his NYPK buddies. The WFPF Affiliate Team HUB Freerunning hosted an epic jam that extended into the night at their local gym New England Sports Academy and then to MIT the next day.
A dozen lucky practitioners received College WFPF tee shirts throughout the day. Each shirt helped Greg and I spread the word of our college initiative, which was welcomed with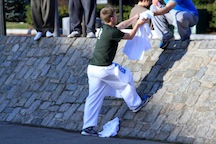 enthusiasm and gratitude! The college community represented in Boston this weekend also included local schools such as Boston University who need the resources of College WFPF to help their club get approved! Greg and I were so happy to talk to so many people that were extremely impressed and excited at the College WFPF website and future plans. They see the need for an online college parkour and freerunning community just as we had seen the need just a few months ago. The needs are being met and thanks to many of you we are now even more excited to get to work for the college parkour and freerunning community!
Please like and share this on Facebook by clicking the above FB like button!
Thanks everyone! Cheers! -M+G Milano-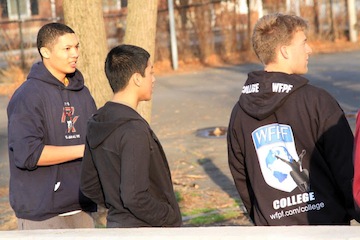 So now as your reward for reading all of this here's Matt Milano's HUBBABLE JAM VIDEO!
---------------------------------------------------------------------------------------------------------------------------------------------------------------------------------------------------------------------------
17 March. 2012

Official Press Release:
Check it out!
LOS ANGELES, CA, March 17, 2012 /24-7PressRelease/ -- The WFPF - World Freerunning Parkour Federation- www.wfpf.com , recognized world leader of the Parkour/Freerunning community, creators/producers of the hit series MTV's Ultimate Parkour Challenge, creator of the KO (Know Obstacles) best selling Parkour shoe, is excited to announce the launch of College WFPF and the website www.collegewfpf.com. College WFPF is now the home for everything "College and University Parkour." College WFPF is the online place where every college Parkour group in the United States can connect, share and inspire each other to help grow the Parkour movement and specifically to help grow and support the Parkour movement on college campuses. Whereas most college Parkour groups across the nation have struggled independently to establish themselves (oftentimes facing stringent restrictions on university campuses), now College WFPF has become a unifying force to help those College Parkour groups work together with each other and with their own university, to achieve their goals. With the advent of some colleges and universities actually sanctioning their own Parkour/Freerunning groups, the WFPF recognizes that the future for Parkour is good at the university level. College WFPF provides support and resources to both the new and/or struggling Parkour groups on campus, as well as those who have already become established and accepted by their universities.


College WFPF is and will always be built by the college Parkour/Freerunning community through school and practitioner submitted content, peer mentorship and advice networking. "We want to be your voice on Facebook, Twitter, YouTube and everywhere college Parkour exists. By linking the college group websites, creating an online database and an online location for college Parkour/Freerunning groups, we have allowed anyone who seeks out Parkour in the college environment to be able to find everything about college Parkour/Freerunning in one place," says a representative of the WFPF.

"Dedicated to College PK Communities built by College PK Communities"

The mission of College WFPF is to support the college Parkour/Freerunning communities in the challenges of starting, maintaining and advancing a college Parkour group. With the help of College WFPF we now have the opportunity to bring all that knowledge together in one place, to advance and protect Parkour at the collegiate level, and develop lasting clubs/groups/organizations across the nation. "My dream", says David Thompson, President and Co-founder of the WFPF, "is to see every college in the United States have a Parkour/Freerunnig club or team, to one day see sanctioned inter-collegiate Parkour events, to one day see young people choose a college because of their great Parkour program, or get into a college with a full paid Parkour scholarship!"

The voice of the college Parkour community across the nation has been heard by Matt and Greg Milano, brothers who started the Parkour group, BCPK, at Boston College. Matt and Greg were asked to lead College WFPF, when the WFPF noticed the huge strides they had made at their own university with their own Parkour group, and saw that these two brothers also had the desire and passion to help other college groups do the same. With the desire to help build collegiate Parkour in the United States, Matt and Greg, along with the WFPF, have worked hard creating the platform from which collegiate Parkour can grow. In their own words:

"We took on the task of helping the college Parkour community because we have first hand experience running a group at a university. We experienced the struggle of starting a group on campus and we now understand the road blocks. We see others going through the same struggle while trying to balance their energy between academics, their love for Parkour and the work involved in running a group. We have seen many leaders of college Parkour groups spin their wheels talking to the University administration and attempting to solve the problems of liability, risk, organization of the group's members, documents, social media outlets and training. We've seen college Parkour groups start and fail and opt instead to run independently from the university, disconnected from the college community. We believe the WFPF has given the college Parkour community an opportunity by giving them the tools, inspiration, and support team to create great on-campus Parkour groups, sanctioned by the universities and ready to help improve the overall college experience for everyone."

The WFPF is proud to announce the first three Charter Sanctioned Schools of College WFPF!

Charter Members:

- University of Virginia Parkour Association
- University of Massachusetts Parkour and Freerunning
- Parkour and Freerunning at Indiana University Bloomington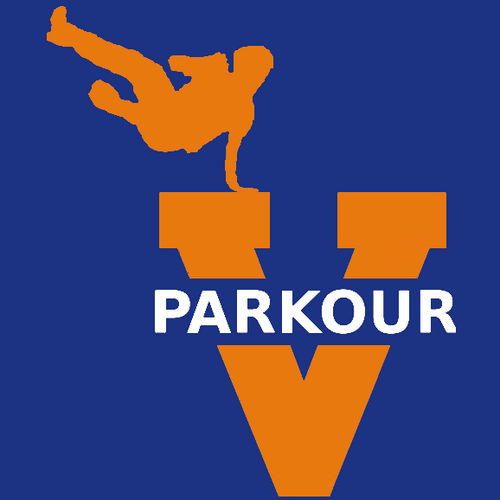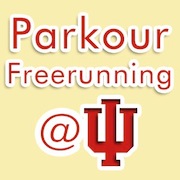 And our first College WFPF Affiliate Team:


- "BCPK" An independent parkour group comprised of Boston College students





Groups are eligible to become a part of College WFPF in two ways, based on their status as a student organization. Groups that are "recognized" student organizations can become a "Sanctioned" College WFPF School. Groups applying to become recognized student organizations at an institution can become a College WFPF "Affiliate" Team. Upon signing the membership agreement between the school and the WFPF or the group and the WFPF, the groups will enjoy numerous benefits and unlimited access to the resources of College WFPF. A few of the benefits include access to a Parkour insurance policy, leader certification, campus Parkour event sanctioning, group website services, as well as invitations to national College WFPF events, conferences and workshops. Groups will have access to liability waivers, club document support, health and safety tips and advice as well as a full Parkour curriculum in accordance with the insurance standard for the safe progressive practice of Parkour/Freerunning. In order to ensure the acceptance of these Parkour groups by universities across the United States, it is essential to learn how to work with the university administration in the only way that the university knows how, and that is by creating an accepted standard of practices and guidelines for the Parkour group that is agreed on by both the College Parkour group and the University. College WFPF can be your guide through this process.

College WFPF will also serve as the principal news source for collegiate parkour. It will showcase college groups from around the country on the website, Facebook page, Youtube Channel and Twitter. It will cover events, but also encourage community outreach through service, charity work and camps. Each school year will end with a nationwide video contest to highlight the talent across the country. There will also be recognition of the tremendous efforts and dedication by group leaders in the form of the annual WFPF Leader Recognition Awards for College Parkour. The WFPF's commitment to the community and the students will not end with awards but they also hope to offer internship opportunities and develop a scholarship program.

We will be looking to the leaders of college groups across the nation to help develop the resources of College WFPF. Through representatives from the Collegiate Parkour community and community-submitted suggestions, added content and contributions will influence the direction of collegiate parkour.

What is your vision of college parkour and freerunning? We would love to hear it! Email us college@wfpf.com

In a way college groups are saving Parkour and Freerunning. As time goes on, outdoor training in public and urban environments will be limited, banned and it will be increasingly harder to train in these areas. College groups as members of the worldwide Parkour community are saving one of the most amazing outdoor environments for Parkour- THE COLLEGE CAMPUS! College groups are assuring that Parkour/Freerunning is not going to go away, fade out like a fad, or get restricted. College groups are ensuring a space and place to live, train, and grow together as a Parkour/Freerunning community at the collegiate level.

To learn more about College WFPF, the Parkour/Freerunning clubs at colleges and universities across the nation and the future of college Parkour visit our website at:

CollegeWFPF.com

Visit us on Facebook

About the WFPF:

Being the world's governing body of the Parkour sports movement, the WFPF has pledged to help spread the sport and philosophy of Parkour safely around the world.

The WFPF has become the world standard for Parkour through its MTV series "Ultimate Parkour Challenge", their US partnership with RED BULL as they brought three "Art of Motion" Parkour/Freerunning competitions to the United States, their relationship with charities "Athletes for Hope" and "Beautiful Feet", their WFPF "Crash Tour" around America, and their websites www.wfpf.com, www.knowobstacles.com (the home of the WFPF's KO Parkour Shoe) and www.parkourplayhouse.com

The WFPF was founded by Victor Bevine, David Thompson, and Francis Lyons.

The World Freerunning & Parkour Federation is dedicated to the safe and respectful advancement of the Parkour Movement throughout the world. Inspired by the creativity and mental discipline embodied by Parkour, the athlete/founders of the WFPF and their partners will faithfully bring this philosophy of movement to the growing numbers of optimistic young people around the globe who believe that through camaraderie, self-expression, and service to others, there is no obstacle that cannot be overcome.

------------------------------------------------------------------------------------------------------------------------------------------------------------------------------------------------------------------------
16 March. 2012


Feel free to email us with questions or suggestions and we will answer them as thorough as possible, but will also be asking the college parkour community questions about running a club, networking and the future of college parkour!
Email us at: college@wfpf.com