Tweet

Our Motto:
'For Everything College Parkour and Freerunning'
Our Mission Statement:

We are a group of dedicated parkour athletes FROM the college parkour community working FOR the college parkour community. Led by current and former leaders in the college parkour community ensures we are addressing the most relevant and crucial issues to the future of collegiate parkour.
USAP College understands the problems parkour clubs face. We have been there ourselves.
Our goal is to share our cumulative knowledge with you, saving you time and getting you back to on campus training. Our approach is personal and our advice is real, practical and from experience.


Who are the Milano Brothers?
Matt Milano- USA Parkour - WFPF
Collegiate Director


Email: College@wfpf.com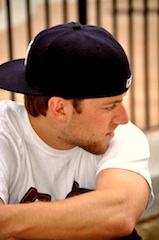 I live and work in West Haven, Connecticut, USA. I am a high school social studies teacher who graduated from Boston College in 2011 with a bachelors in Secondary Ed. and History. As a previous high school diver, I started training Freerunning and Parkour in 2006. During my first few years of training I became highly involved in the online forum of NEParkour.com (New England Parkour) attending numerous regional and local jams.
In 2008, at the New Yorker Festival demonstration, I met and received an autograph and picture with David Belle. Later that year my twin brother Greg and I founded "BCPK" Boston College's 'unofficial' Parkour club where I led and instructed 25 dedicated members. I have trained in Europe, including a pilgrimage to London in April 2010 and I trained with locals during previous trips to Amsterdam and Italy. I have also trained in Los Angeles, at UCLA and Venice Beach. I called Boston, MA my residence and training grounds for the 2007-2011 school years where I was involved with planning and promoting for the Sept 2010 Boston Red Bull Art of Motion in affiliation with the WFPF. During this amazing experience I trained with athletes such as Ryan Doyle, Daniel Arroyo, Tim Sheiff, Pip Anderson, Yoann Zephyr Leroux, Jason Paul, and Cato Aspmo. It was shortly after this that my brother Greg and I became invloved with the WFPF, first becoming the WFPF's first college affiliate in BCPK, then working with them to organize the college parkour community with the USAP College division.

Today, I live in Connecticut. I have made it a personal mission, as a first generation practitioner, to develop the Connecticut parkour scene. Each day I advise community members by using the CTPK Facebook groups and regional forums, continually spreading parkour and freerunning throughout CT. We graduated from BC in May 2011 but my brother and I remain highly active in support of the members of BCPK and are as much invested in spreading the love of Parkour to colleges across the country as we are invested in maintaining the longevity of BCPK.
Greg Milano-
USA Parkour - WFPF
Collegiate Director

Email: College@wfpf.com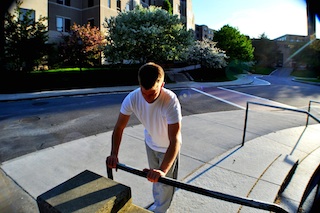 Hi, my name is Greg Milano. I am from West Haven, Connecticut. I graduated from Boston College in the spring of 2011 with a degree in Art History. I am currently attending law school. I enjoy playing soccer, running and training parkour. While attending Boston College my twin brother Matt and I co-founded BCPK, Boston College's unofficial parkour group. We built the group from the ground up fueled by our love for parkour, inspiration of BC's campus for training and the feed back we got by the college community.
In 2007, I attended the New Yorker Festival where I was fortunate enough to meet David Belle. Since then I have trained in some of the most iconic places to train parkour in the US and abroad. I have trained in California at UCLA and in Santa Monica, in Florida and across the northeast. While studying abroad in Florence, Italy I trained with PK FIRENZE, in Florence and the Milano Monkeys in Milan. I traveled to Denmark, where I trained at the Jiyo Parkour Park in Copenhagen, I trained in Amsterdam and trained at some of the most famous spots in London including IMAX, Vauxhall and South Bank.
In 2010, I helped promote for the
Red Bull Art of Motion in Boston with Danny Arroyo and Ryan Doyle
on the campuses of Boston College and Boston University . I was approached by the founders of WFPF to plan the community jam as part of the Red Bull Art of Motion in Boston and introduced to WFPF founding athletes Tim "Livewire" Sheiff and Pip Anderson.
In 2011, I graduated from Boston College and passed on the leadership of BCPK, but not before getting my group affiliated with WFPF. I currently live in Connecticut and I am an active member of New England Parkour and Connecticut Parkour. In the fall of 2011, I was approached by the WFPF to head a college division of WFPF, then known as "College WFPF." We have since reorganized under USA Parkour, a division of WFPF and are excited for the the future of the college division of USA Parkour, "USAP College." A Director of USAP College, I am dedicated to providing resources to college parkour leaders and strengthening the college parkour community through networking, national and regional events, tips/advice and developing strategies to combat liability and risk problems associated with training parkour on a college campus.


Our Reason for Leading USAP College:


We

took on the task of helping the college parkour community because we have first hand experience running a group at a university. We know the amazing value in a group on campus and we recognized the unique opportunity we had to share something that fits so well into the college lifestyle but also is new, refreshing and full of potential. We experienced first hand the struggle of starting a club on campus and the road blocks you can experience. We see others going through the same struggle while trying to balance their energy between academics, their love for parkour and the work involved in running a group. We have seen too many leaders wasting their valuable time in school talking to administrators and attempting to solve the problems of liability, risk, and organization of the group's members, documents, social media outlets and training. These problems have made too many groups of students, who have so much pride for their school, into disheartened and discouraged outsiders on a campus they make their home, opting instead to run independent from the university, disconnected from the campus community. We believe WFPF and USA Parkour has given the college parkour community an opportunity to ensure the growth of the college parkour community. By strengthening ties within the community, we hope to make it easier to enjoy the fruits of the college parkour community, while becoming valuable members of their campus communities, all while still in school!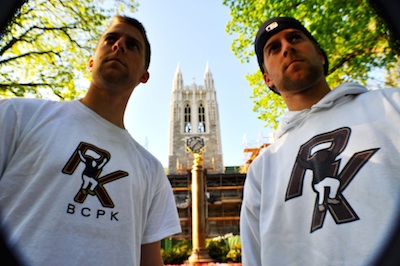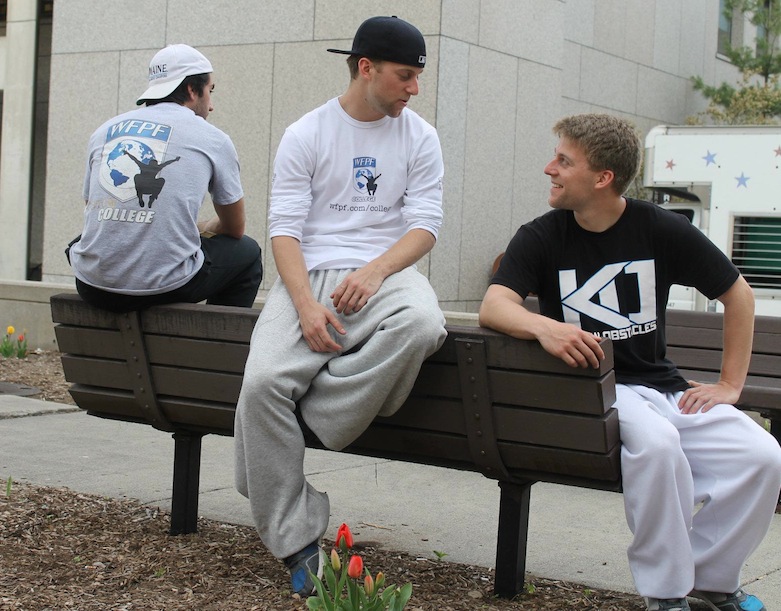 USAP College Board of Advisors:

"It's your community. Help us make it want you want it to be!"
Our first priority is to improve the strength and value of USAP College for the college parkour community by gaining the support and loyalty of as many established college groups as possible. In this way, we can work together to strengthen the college parkour community and together influence the direction that collegiate parkour will go.


In the near future we will set up a USAP College Board, which will have national and regional undergraduate representatives that will become the voice of the individual groups in each region of the country. Together the Board and the Representatives on the Board will be the driving force behind the organization and progression of collegiate parkour. USAP College has the ultimate goal of becoming a regulatory, sanctioning and organizing body that will require compliance with regulations and guidelines for membership but will in no way force all collegiate groups to run in a particular manner.
The Board, the representatives and our members will act as ambassadors for the college parkour community and the parkour community as a whole. The Board and the representative body of the membership acts as a liaison between USAP College, its Directors and the college parkour community by representing the thoughts, vision, attitudes and goals of the college parkour community and the parkour community.
Future Scholarship opportunities
Our goal is to offer scholarship opportunities that will enable a prospective undergraduate to attend the college or university with a parkour and freerunning that the student would not otherwise have the opportunity to attend and take advantage of the group on campus. We hope to give a chance to youth that share our love of parkour and freerunning and give them the ability to experience all that the collegiate parkour community has to offer.
Future Internship possibilities with the WFPF
Possible internship postitions in the following areas of USAP College:
Sports Management
Event Coordinating
Membership Services
Communications
Marketing/Social Media
Awards:
Leader of the Year (annual)
Underclassmen Award for Leadership (annual)
Service/Outreach Achievement Award (Awarded Periodically)