Tweet

We are Revolutionizing the College Parkour Scene!

News Feed:


Most up to date information and news visit our facebook page! www.facebook.com/USAPcollege



We are in the process of moving to usaparkour.org:

Check it out!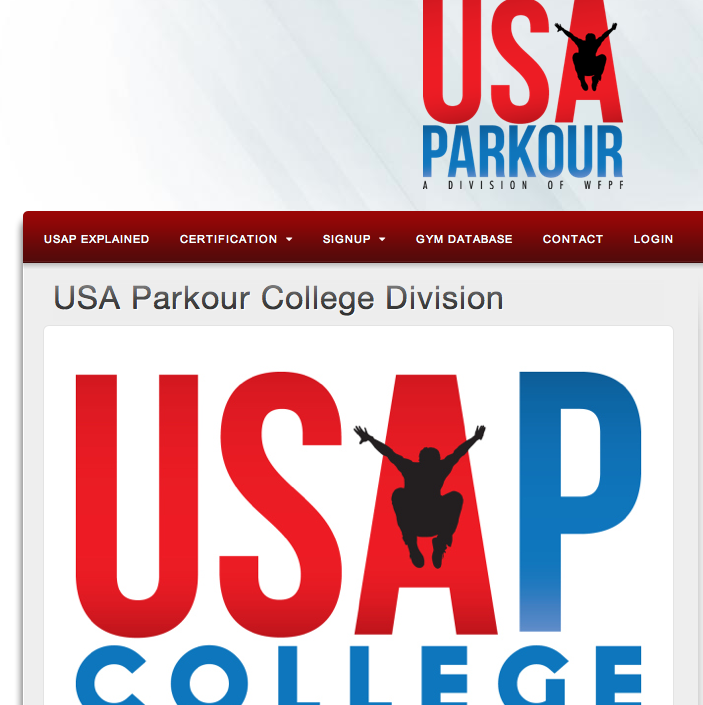 Older Posts:
29 May 2012


Welcome RWUPK to the College WFPF family!

Roger Williams University Parkour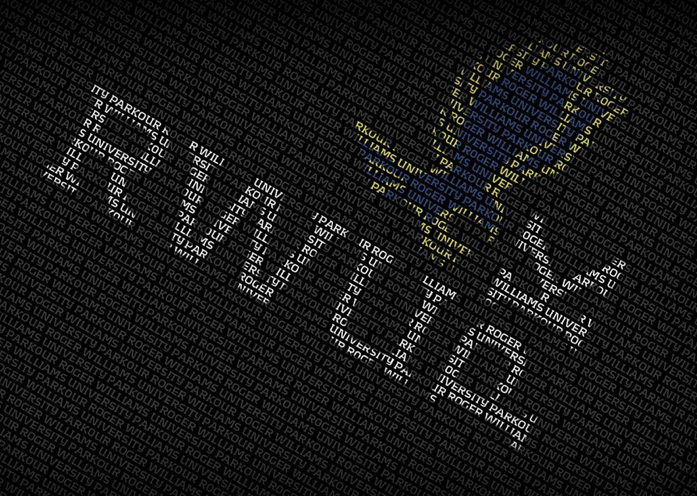 28 April 2012
UMass Amherst
Parkour Day
on Saturday April 28th was a huge success! Thanks to UMass Parkour,

Vitaminwater

, and everyone from all across New England that came out for the event!
BLOG ENTRY IS UP! Pictures are on the Facebook page! VIDEO OUT SOON!
5 April 2012

First College WFPF Event- "Parkour Day"- UMASS Parkour- April 28th


On April 28th on the campus of the University of Massachusetts the first official College WFPF event is slated to take place.
UMass Parkour is hosting the first official College WFPF event to showcase the talents of parkour/freerunning/obstacle-oriented movement groups all over New England and beyond. The other goal of this event is simply for all of us to learn with, share with and enjoy the company of our fellow moving brothers and sisters.

Rules for participants:

1. Performance Group size must be 3-5 practitioners.
2. All Groups must register 2 weeks in advance of competition (by April 14th).
3. All participants must sign a waiver of release and fill out an emergency contact form to be found at the registration tent.
4. All participants under the age of 18 must have a parent sign the correct spaces on the above listed required forms.
5. All teams must submit a :30-1:00 video 2 weeks in advance of the performance date. (by April 14th)
6. All 3-5 members must be featured in the performance and the video. This is a group event.

Schedule of Events(tentative):

12:00-3:00 Registration/ Warmup/ Planning for Performers
1:30-2:30 Free 15 Minute "Flash Lessons" Open to Anyone
3:00-5:30 Performances
6:00-8:00 Dinner and a Movie for Performers

Notes:

A) We are asking for a recording of your group not for purposes of making anyone feel bad, we simply need to know if your members are capable of moving without causing self-injury.
B) Teams may be affiliated with, or not affiliated with any institution, company etc. As, in, if you have 30 people at your college who are into movement and you'd like to submit 10 teams, that's fine. In other words, registration is open to any competent team.
C) There will be sponsorship at this event.
D) Members of the Media community are welcome.
E) This is not a competition, but a performance.
F) Not to be confused with "Parkour Day" we think every day is Parkour Day.

http://www.facebook.com/events/293910590628279/

Registration Ends April 14th!

Registration Form: https://docs.google.com/spreadsheet/viewform?formkey=dHU4RFY3c3NPMThnRlg1ZHYxWXFFanc6MQ


------------------------------------------------------------------------------------------------------------------------------------------
17 March 2012

Official Press Release- College WFPF
LOS ANGELES, CA, March 17, 2012 /24-7PressRelease/ -- The WFPF - World Freerunning Parkour Federation- www.wfpf.com , recognized world leader of the Parkour/Freerunning community, creators/producers of the hit series MTV's Ultimate Parkour Challenge, creator of the KO (Know Obstacles) best selling Parkour shoe, is excited to announce the launch of College WFPF and the website www.collegewfpf.com. College WFPF is now the home for everything "College and University Parkour." College WFPF is the online place where every college Parkour group in the United States can connect, share and inspire each other to help grow the Parkour movement and specifically to help grow and support the Parkour movement on college campuses. Whereas most college Parkour groups across the nation have struggled independently to establish themselves (oftentimes facing stringent restrictions on university campuses), now College WFPF has become a unifying force to help those College Parkour groups work together with each other and with their own university, to achieve their goals. With the advent of some colleges and universities actually sanctioning their own Parkour/Freerunning groups, the WFPF recognizes that the future for Parkour is good at the university level. College WFPF provides support and resources to both the new and/or struggling Parkour groups on campus, as well as those who have already become established and accepted by their universities.


College WFPF is and will always be built by the college Parkour/Freerunning community through school and practitioner submitted content, peer mentorship and advice networking. "We want to be your voice on Facebook, Twitter, YouTube and everywhere college Parkour exists. By linking the college group websites, creating an online database and an online location for college Parkour/Freerunning groups, we have allowed anyone who seeks out Parkour in the college environment to be able to find everything about college Parkour/Freerunning in one place," says a representative of the WFPF.

"Dedicated to College PK Communities built by College PK Communities"

The mission of College WFPF is to support the college Parkour/Freerunning communities in the challenges of starting, maintaining and advancing a college Parkour group. With the help of College WFPF we now have the opportunity to bring all that knowledge together in one place, to advance and protect Parkour at the collegiate level, and develop lasting clubs/groups/organizations across the nation. "My dream", says David Thompson, President and Co-founder of the WFPF, "is to see every college in the United States have a Parkour/Freerunnig club or team, to one day see sanctioned inter-collegiate Parkour events, to one day see young people choose a college because of their great Parkour program, or get into a college with a full paid Parkour scholarship!"

The voice of the college Parkour community across the nation has been heard by Matt and Greg Milano, brothers who started the Parkour group, BCPK, at Boston College. Matt and Greg were asked to lead College WFPF, when the WFPF noticed the huge strides they had made at their own university with their own Parkour group, and saw that these two brothers also had the desire and passion to help other college groups do the same. With the desire to help build collegiate Parkour in the United States, Matt and Greg, along with the WFPF, have worked hard creating the platform from which collegiate Parkour can grow. In their own words:

"We took on the task of helping the college Parkour community because we have first hand experience running a group at a university. We experienced the struggle of starting a group on campus and we now understand the road blocks. We see others going through the same struggle while trying to balance their energy between academics, their love for Parkour and the work involved in running a group. We have seen many leaders of college Parkour groups spin their wheels talking to the University administration and attempting to solve the problems of liability, risk, organization of the group's members, documents, social media outlets and training. We've seen college Parkour groups start and fail and opt instead to run independently from the university, disconnected from the college community. We believe the WFPF has given the college Parkour community an opportunity by giving them the tools, inspiration, and support team to create great on-campus Parkour groups, sanctioned by the universities and ready to help improve the overall college experience for everyone."

The WFPF is proud to announce the first three Charter Sanctioned Schools of College WFPF!

Charter Members:

- University of Virginia Parkour Association
- University of Massachusetts Parkour and Freerunning
- Parkour and Freerunning at Indiana University Bloomington


And our first College WFPF Affiliate Team:

- "BCPK" An independent parkour group comprised of Boston College students

Groups are eligible to become a part of College WFPF in two ways, based on their status as a student organization. Groups that are "recognized" student organizations can become a "Sanctioned" College WFPF School. Groups applying to become recognized student organizations at an institution can become a College WFPF "Affiliate" Team. Upon signing the membership agreement between the school and the WFPF or the group and the WFPF, the groups will enjoy numerous benefits and unlimited access to the resources of College WFPF. A few of the benefits include access to a Parkour insurance policy, leader certification, campus Parkour event sanctioning, group website services, as well as invitations to national College WFPF events, conferences and workshops. Groups will have access to liability waivers, club document support, health and safety tips and advice as well as a full Parkour curriculum in accordance with the insurance standard for the safe progressive practice of Parkour/Freerunning. In order to ensure the acceptance of these Parkour groups by universities across the United States, it is essential to learn how to work with the university administration in the only way that the university knows how, and that is by creating an accepted standard of practices and guidelines for the Parkour group that is agreed on by both the College Parkour group and the University. College WFPF can be your guide through this process.

College WFPF will also serve as the principal news source for collegiate parkour. It will showcase college groups from around the country on the website, Facebook page, Youtube Channel and Twitter. It will cover events, but also encourage community outreach through service, charity work and camps. Each school year will end with a nationwide video contest to highlight the talent across the country. There will also be recognition of the tremendous efforts and dedication by group leaders in the form of the annual WFPF Leader Recognition Awards for College Parkour. The WFPF's commitment to the community and the students will not end with awards but they also hope to offer internship opportunities and develop a scholarship program.

We will be looking to the leaders of college groups across the nation to help develop the resources of College WFPF. Through representatives from the Collegiate Parkour community and community-submitted suggestions, added content and contributions will influence the direction of collegiate parkour.

What is your vision of college parkour and freerunning? We would love to hear it! Email us college@wfpf.com

In a way college groups are saving Parkour and Freerunning. As time goes on, outdoor training in public and urban environments will be limited, banned and it will be increasingly harder to train in these areas. College groups as members of the worldwide Parkour community are saving one of the most amazing outdoor environments for Parkour- THE COLLEGE CAMPUS! College groups are assuring that Parkour/Freerunning is not going to go away, fade out like a fad, or get restricted. College groups are ensuring a space and place to live, train, and grow together as a Parkour/Freerunning community at the collegiate level.

To learn more about College WFPF, the Parkour/Freerunning clubs at colleges and universities across the nation and the future of college Parkour visit our website at:



CollegeWFPF.com



Visit us on Facebook:

www.facebook.com/CollegeWFPF



Follow us on Twitter:

www.twitter.com/CollegeWFPF



Subscribe to us on YouTube:

www.youtube.com/user/CollegeWFPF



About the WFPF:

Being the world's governing body of the Parkour sports movement, the WFPF has pledged to help spread the sport and philosophy of Parkour safely around the world.

The WFPF has become the world standard for Parkour through its MTV series "Ultimate Parkour Challenge", their US partnership with RED BULL as they brought three "Art of Motion" Parkour/Freerunning competitions to the United States, their relationship with charities "Athletes for Hope" and "Beautiful Feet", their WFPF "Crash Tour" around America, and their websites

www.wfpf.com

,

www.knowobstacles.com

(the home of the WFPF's KO Parkour Shoe) and

www.parkourplayhouse.com



The WFPF was founded by Victor Bevine, David Thompson, and Francis Lyons.

The World Freerunning & Parkour Federation is dedicated to the safe and respectful advancement of the Parkour Movement throughout the world. Inspired by the creativity and mental discipline embodied by Parkour, the athlete/founders of the WFPF and their partners will faithfully bring this philosophy of movement to the growing numbers of optimistic young people around the globe who believe that through camaraderie, self-expression, and service to others, there is no obstacle that cannot be overcome.

The College WFPF site launches March 17th!



Check out the features on our site!




Meet the co-chairs of College WFPF Matt and Greg, check out our Mission Statement and check out our Resources tab!



We are proud to announce our first three charter Sanctioned College WFPF Schools!


-University of Massachusetts Parkour
-Indiana University Parkour and Freerunning
-University of Virginia Parkour Association



Want to become a Sanctioned College WFPF School? Are you a sanctioned

college group/recognized student organization?

Apply Here



Not a sanctioned college group? Need WFPF support in becoming a sanctioned

college group/recognized student organization?

Apply to become a College WFPF affiliate here



We are proud to support our first College WFPF Affiliate college group:



BCPK

(Boston College)





LIKE US ON FACEBOOK: